The Source for Learning & Memory Strategies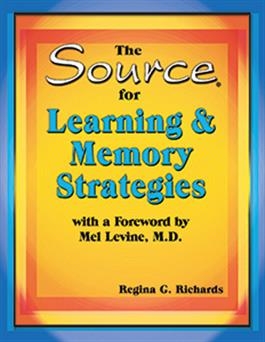 Materials to Download
To see more of this product's contents:
The Source for Learning & Memory Strategies
Ages: 6-18
Grades: 1-Adult
Find hundreds of workable solutions for improving memory and learning for students with special needs with this Source.
Backed by years of practice and study, this book is built on the premise that every student can learn. You'll learn how memory works, how to best work with it, and the practical measures that can prime and maximize memory capacity.
Use this book to learn:
brain function and anatomy
instructional strategies based on how the brain functions
the memory process, what a breakdown at any point means, and how to develop teaching tools to address the weakness
15 common types of memory activities that students are often asked to use in school
learn 14 types of visual organizers and 14 uses for them
more over 175 strategies, activities, and tips that help learning stick for skills in:

phonological awareness (e.g., movement, symbol/sound manipulation)
sound/symbol correspondence (e.g., visual mnemonics)
spelling (e.g. visualization using word parts, air writing, singing)
vocabulary (e.g., vocabulary mapping, knowledge tree, pantomime)
reading comprehension and fluency (e.g., concept maps, Skim-RAP-Map)
math (e.g., color coding, supplementing with gestures, music and rhythm)
learning and remembering facts (e.g., use of humor, peer teaching)
conceptual learning (e.g., priming, drawing, journaling)
Extra helps include:
review questions or an activity in every chapter
reproducible graphic organizers
reproducible story pictures
lists of number prefixes and common suffixes
215 pages • 8.5 x 11, softcover • ©2005
---
Reviews
---
---