No-Glamour Junior Answering Questions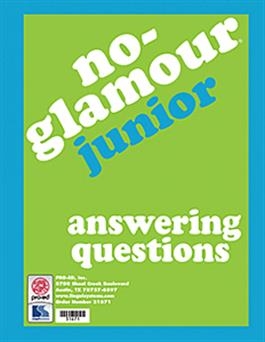 Materials to Download
To see more of this product's contents:
No-Glamour Junior Answering Questions
Ages: 4-9
Grades: PreK-4
Students develop core classroom language skills with cut-and-paste story sequences that guide them to answer questions and construct and tell their own stories. Bring some innovative techniques and tools to your therapy room! Teach question skills and narrative language with:
amusing, illustrated story sequences
hierarchy of wh- question difficulty
student cut-and-paste activities to create their own stories
guided lessons help students transition to story-telling
personalized application questions help students use prior knowledge to expand language usage
Use the activities to meet goals for these classroom language skills:
wh- question comprehension and answering
story comprehension
sequencing
syntax
vocabulary
thinking and problem-solving
predicting and inferring
Each of the 45 lessons progress in this order:
Activity 1- Children listen to a three-part story and follow along by looking at the story illustrations. Then, they answer wh- questions about the story. There are three levels of question difficulty:

Level 1- basic content questions
Level 2- inference questions
Level 3- problem-solving, predicting, and expansion questions

Activity 2- The child constructs his own story loosely based on the story in the first activity. Wh- questions are provided to help him plan his narrative. The child chooses pictures included in each lesson to illustrate his story.
Activity 3- The child sequences the pictures he selected in Activity 2 to make a three-, four-, or five-part story and glues them on the activity page. He tells his story with the therapist providing question prompts as needed. Personal application questions give the child practice in relating information and experiences. Use these question prompts to delve deeper into complex wh- question forms and develop skills for problem solving, memory, inferencing, and predicting.
141 pages • 8.5 x 11, softcover • ©2012
---
Reviews
---
---