Real Life Math Living on a Paycheck Second Edition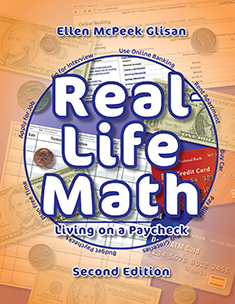 Real Life Math Living on a Paycheck Second Edition
In Real-Life Math: Living on a Paycheck, students use math skills to learn about life. For example, they learn to use a debit card, keep a check register, and use online banking—not for the sake of learning the skills, but as a way to pay their bills and keep track of their finances. Their individual check registers become a tool rather than a lesson.
In Real-Life Math, skills are used and then repeatedly reinforced due to the natural pattern of repetition that is found in life. For example, bills are not paid during a 1-week lesson on paying bills. Rather, bills are paid repeatedly throughout the program because paying bills is a repetitive event in life. This constant recurrence that is natural in daily life serves as a perfect learn–review–review–review–review pattern in the classroom. As students learn to function in the make–believe town of Willow, U.S.A., they truly learn to function in life.
Most students can benefit from this method of learning consumer math; however, for students who struggle in school, this approach might be the only way they will really learn needed math skills. Students who have not previously had success in math can succeed with this program because it offers an opportunity to learn by doing. Many people learn best by doing and, for some students, hands-on participation is the only way they learn well. For this reason, teaching math through a simulation that models real life is a logical idea.
Real-Life Math: Living on a Paycheck offers a realistic life-experience method of teaching financial literacy, as students learn a wide range of financial skills within the context of simulation. This format allows students to learn all the skills in relation to each other rather than in isolation. Using this approach is logical because financial skills are rarely used in isolation in real life.
ISBN: 9781416410546
COMPLETE REAL-LIFE MATH INCLUDES: Teacher's Manual and reproducible Activity Book. ©2017
---
Reviews
---
---