Basic Grammar Series 1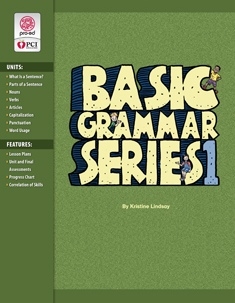 Materials to Download
Basic Grammar Series 1
Multisensory Program
Reading Level 1 - 3
Interest Level 1 - 10
Basic Grammar Series incorporates essential grammar skills in three levels, each including more than 200 activities. The program offers a variety of activities in order to help students fully master each skill. Worksheets have been designed to address the major learning modalities (visual, auditory, and tactile/kinesthetic). Each of the three books is leveled, beginning with the most basic grammar skills in Book 1 and gradually increasing the difficulty level in books 2 and 3. The reading level also increases from 1.0 to 3.0.
Program Features
All three levels are organized in the same manner, making the program easy to use. Each level contains a correlations chart featuring skill objectives so that teachers can easily reference specific skills pertinent to their students' needs. Each level contains 8-13 units. The beginning of each unit includes a teacher page complete with instructions for motivating the students, as well as suggested activities to use in class and to take home. Also included is a parent letter that explains the unit students will be studying and offers suggested home activities that will reinforce the skill.
Basic Grammar Series 1 Units:
What Is a Sentence?
Parts of a Sentence
Nouns
Verbs
Articles
Capitalization
Punctuation
Word Usage
Activities
Each student in the class will benefit from the varied learning opportunities offered through the skill activities. Most units contain approximately 25 different activities, including matching, fill-in-the-blank, cut-and-paste, and coloring activities. Many units also contain activities that allow students to practice proofing various materials.
Review
At the end of each unit is a Reflect and Review activity that focuses on the skills currently being covered, as well as a previously taught skill. Through this type of practice format, students will begin to see how skills are interrelated, building on each other.
Assessments
Each unit concludes with multiple assessments in test-preparation format. Each book concludes with final assessments to determine student progress.
Each Level Includes over 200 Activities with a variety of opportunities for practicing each skill, Reflect and Review Practice, Assessments, and Answer Keys.
235 pages • 8.5 x 11 • softcover • ©2003
---
Reviews
---
---