Basic Vocabulary Series 1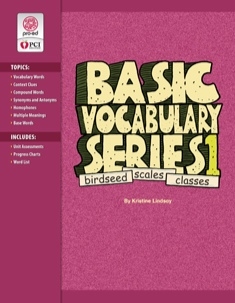 Basic Vocabulary Series 1
Develops Language Skills with 200 Words
Reading Level 2.5 - 3.5
Interest Level 2 - 10
Basic Vocabulary Series teaches basic vocabulary words with reproducible activities, which improve students' reading skills. Throughout, students read and learn specific vocabulary words. Reproducible activities, often with illustrations, are presented in multiple formats to help students with different learning styles. Basic Vocabulary Series features age-appropriate activities. Written for students who need to practice their reading skills.
Basic Vocabulary Series 1 includes seven units that cover basic vocabulary words with activities written at a low reading level, between 2.5-3.5. Vocabulary Words is the first unit in Basic Vocabulary Series 1, including lessons on the most basic "real-world" words that students encounter.
Skills
Each unit covers one of the following skills in fun activities: Context Clues, Compound Words, Synonyms and Antonyms, Homophones, Multiple Meanings, and Base Words.
Progress Charts
Each of the units include a progress chart, listing all of the words covered in the unit. Charts provide a tool for teachers to track students' progress in acquiring and correctly using vocabulary words addressed in each unit.
Assessments
Every unit, except the first unit called Vocabulary Words, concludes with an assessment sheet. Assessments measure students' mastery of vocabulary words and skills by the end of each unit.
Basic Vocabulary Series 1 Includes: Over 100 reproducible activity sheets, a Word List with useful page references of all words covered, a Parent or Guardian Letter, an Answer Key, and more.
143 pages • 8.5 x 11, softcover • ©2005
---
Reviews
---
---