Basic Paragraph Practice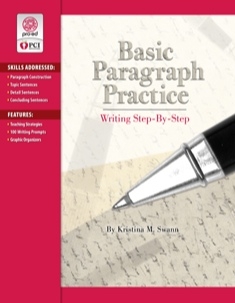 Materials to Download
Basic Paragraph Practice
Writing Step by Step
Reading Level 2 - 4
Interest Level 4 - 12
The Paragraph Practice Series helps struggling learners and students with learning differences learn how to write confidently step-by-step. This series gives students a foolproof strategy for writing paragraphs with these reproducible activities. When faced with a standardized-test prompt, journal topic, or essay question, many students have difficulty deciding what to write, how much to write, and what order to write in.
Basic Paragraph Practice helps students organize their thoughts to transfer to paper in paragraph format.
Step-By-Step Process
Students use a graphic organizer to write a five-sentence paragraph, including a topic sentence, three detail sentences, and a concluding sentence. Each sentence goes in its own box so students can be sure to include all the parts. After completing all of the steps, students rewrite the five sentences in paragraph form.
Real-World Topics
Each reproducible book presents captivating topics in 100 high-interest prompts, including the following:
Who are your favorite musicians?
What cities would you like to visit?
What are your favorite things to wear?
What foods would you be least likely to try?
Think about your best friend. Why is he or she your best friend?
The Process
Through a series of lessons, examples, and practice activities, students learn to write the key parts of essays: introductory paragraphs, body paragraphs, and concluding paragraphs. After they learn and practice the three key parts of essays, students move on to practice writing three-, four-, and five-paragraph essays. A graphic organizer gives students a visual framework to support them as they organize ideas into separate paragraphs and use elaboration strategies to develop and practice writing multi-paragraph essays.
120 pages • 8.5 x 11, softcover • ©2006
---
Reviews
---
---