Real-World Reading 1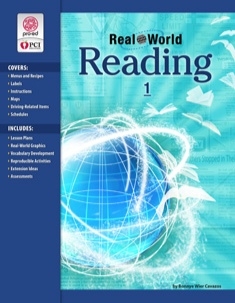 Materials to Download
Real-World Reading 1
Builds Everyday Reading Skills
Reading Level 3 - 5Interest Level 5 - 12
Teach strategies for reading many different types of print found in the real world. Students learn survival reading techniques along with key vocabulary words for a variety of everyday texts, such as menus, labels, maps, bills, credit card statements, and job applications. Activity sheets include realistic graphics of each type of text to provide "real-life" reading practice.
LESSONS
Each unit begins with a lesson plan that provides ideas for helping students become familiar with a particular type of print. Both prereading and comprehension strategies are introduced along with ways to learn key vocabulary.
ACTIVITIES
Multiple activity sheets follow each lesson, allowing for extensive individual practice in reading and understanding the texts covered. Several ideas for fun and unique extension activities are also included.
ASSESSMENTS
Unit assessments test students'' ability to read and interpret each type of text. Questions include matching, multiple choice, true/false, and short answer.
COVERS:
Menus and Recipes
Labels
Instructions
Maps
Driving-Related Items
Schedules
INCLUDES:
Lesson Plans
Real-World Graphics
Vocabulary Development
Reproducible Activities
Extension Ideas
Assessments and Answer Key
---
Reviews
---
---