Attainment Talkers
Attainment Talkers
Two slim, lightweight talkers at remarkable prices, and they sound great too!
Attainment Talkers are easy to record and use, each with 10 seconds of recording time per message.
The AT6 has 6 messages with a large (2-inch) active area for each message, while the AT24 has 24 messages with smaller (3/4-inch) active areas. Touch each active area to play back recordings.
A clear, plastic pocket holds and protects communication cues. Hold the talker with 2 hands and activate speech with your thumb, or use it as a tabletop talker. The nonskid pads keep the talker from sliding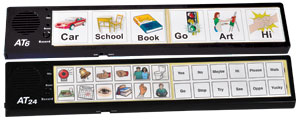 Features:
6 or 24 images

10 seconds recording per message

12.25" x 2.25" x .5"

3/4" or 2" active area

Great sound

Easy to record

Lightweight (6.6 oz.)

Uses AA batteries

Includes 2 AA batteries!

---
Reviews
---
---