Comic Life 3.5
Free Shipping
Comic Life 3.5
Free Shipping
Presenting Comic Life 3, the app with everything you need to make a stunning comic from your own images. Packed with fonts, templates, panels, balloons, captions, and lettering art, Comic Life is a fun, powerful and easy-to-use app with endless possibilities.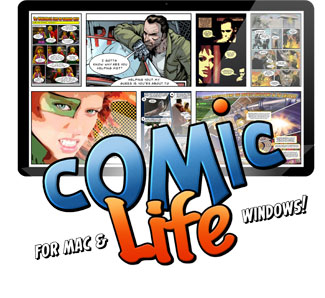 Educators in more than 80 countries have discovered Comic Life is an excellent complement to their lesson plans for beginning and intermediate readers and writers.Comic Life is perfect for engaging reluctant readers and teaching visual literacy, perfect for integrating STEAM and Common Core Standards into your lessons. Easy to learn and fun to use, Comic Life is a great tool for any student.

A picture is really worth a thousand words
As a fundamentally visual medium comics provide scaffolding for students, bringing together visual and text based learning. Students can create a one page comic illustrating a concept or a more complex multipage storyline in Comic Life. Incorporating photos and drawings to their narratives is a fun way for students to cement narrative arcs, demonstrate understanding and be creative!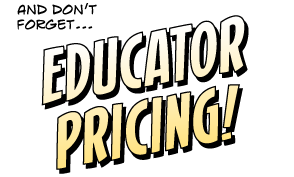 Whole Class
The process for creating a comic as a whole class can be fun as well as an excellent experience for students to polish their interpersonal communication skills. The process, however, is likely to be very different from any other kind of writing and will require students and the teacher to quickly change roles.
Small Group Digital Graphic Writing
Older students may wish to create comics in smaller groups. The dynamics from group to group will vary, and the teacher will need to monitor and make suggestions as necessary. Otherwise the process will be similar to the one above.
Digital Graphic Writing as a Solitary Pursuit
Students can make comics individually, of course, and may much prefer it to collaboration. How much is text and how much is graphics will vary from student to student, project to project. Comic Life can be used to produce work which is mostly text and fewer images as well as graphic dominated comics. Students may use Comic Life for a variety of different writings.

30 New Beautiful Templates. Went back to the drawing board and created a fresh set of templates that highlight the incredible tools you have at your fingertips in Comic Life 3.5.


Script Editor. Get your words straight before starting your layout.
Advanced Filters. New parametric filters make your photos even more amazing.
Instant Alpha. Use the instant alpha tool to quickly knock out the background of your photos.
New Graphic Options. Brush strokes give your elements a hand drawn look and more.
New Editing Controls. Parametric balloon shapes for more variety.

And much, much more!
Script Editor

Get your words straight before starting your layout. Got a story idea that you want to make into a comic book? Write it out in the script editor so you're ready to take or find the photos you need to make the story come alive on the page. And taking your words to the comic page is easy with the SmartScript recognition system.

Advanced Filters

New parametric filters make your photos even more amazing than before, including awesome new options like Rotoscope, Retro, and Sketch.

Instant Alpha

Use the instant alpha tool to quickly knock out the background of your photos so you can place your characters in new locations or on dynamic comic book style backgrounds.

New Graphic Options

Brush strokes give your elements a hand-drawn look. 3D lettering for stand out titles. New fill options for halftones, speedlines, textures and more to liven up your panels and lettering.

New Editing Controls

Parametric balloon shapes for more variety. Bendable connecting tails for extension bubbles. Rulers, alignment and spacing guides. Two up page display including facing pages. Master page elements for elements that need to be on every page.

And much, much more!

"Awesome!... It's intuitive and it has a wider selection of title treatments and templates - love the retro look!" Chris Shoemaker, Co-Founder of Freshi Media

"Outstanding." Alan Evans, The Dreamer Comic
Need a hand getting started? We've got you covered.

Choose from 35 great-looking templates. All kinds of themes are represented from creative to stories from your life. Been on a crazy road trip? Want to make a graphic novel starring your friends? Got an idea for movie? Comic Life has templates for that.

Use the Template Chooser to quickly find the template you want, and you're off.

Get your story straight.

Every great comic story starts with a script, and now you can too! The script editor keeps things clean and simple with a word processor that has a trick up its sleeve.

Start typing your script and you'll find icons appearing alongside. That's right, Comic Life is figuring out what kinds of elements you need as you type. When your script is complete just drag and drop your text from the script to your layout.

No need to flip between apps. Everything you need for your comic lettering is available in one place.

Turn anyone into a super hero! No capes required.

Comic Life can take your pictures and turn them into comic artwork with a click of button. Choose from a variety of art styles to make your pages pop. But it doesn't end there.

You can also knock out the background of images and overlay them on new scenes. Instant teleportation! Use the blur to bring your characters into the foreground. Or enhance the action by putting your character onto one of the many dynamic backgrounds included in Comic Life.

Add a little Shazam! to your page.

When you want your characters to speak or need to set the scene you'll find a wide variety of flexible balloons and captions available. Balloons have multiple varieties, letting you get the exact shape you need. And the tails can be curved into the perfect path for your images.

Need a sound effect? Or a big title for a comic? Lettering is here to help. You can warp it all kinds of ways, outline it, even make it 3D to really have it stand out.

Whatever your lettering needs may be Comic Life is here to help.

Put it all on the line!

Comic Life comes with all the tools you need to make your comic look great. Rulers and alignment guides keep things in order. Two-up page view and facing pages let you use more of your screen and get a live preview of your final layout. Find and replace words in both the script editor and across the comic pages. And styles let you maintain a consistent visual style across your entire comic.

It'd be a shame if you kept those comics to yourself.

When your masterpiece is ready you'll find all the options you need to share it with your fans, friends and family. Want a keepsake? Choose PDF or high resolution images to get printable quality output (or send it straight to your own printer). Want to share it as an eBook? ePub or CBZ is the way to go. And if you want to keep it within your own social network there's Facebook or email.




Requires Mac OS X 10.6.5 or later
1 GHz+ Intel Mac
1024 MB RAM (2 GB rec.)
384 MB of video RAM
300 MB of available disk space
Minimum 1024×768 display

Requires Windows 7 (SP1)
or Windows 8 (+latest patches)
1.5GHz processor (2.0+GHz rec.)
1 GB RAM (2GB rec.)
300 MB of available disk space
Minimum 1024×768 display (1280×1024 rec.)
---
Reviews
---
---