TextConnections Middle School Teacher's Kit
TextConnections Middle School Teacher's Kit
Reading Intervention to Build Comprehension and Critical-Thinking Skills
TextConnections is a full-year reading intervention course specifically designed for adolescents who have mastered basic phonics and decoding skills but lack solid comprehension and critical thinking skills. TextConnections focuses on comprehension skills and strategies with support from vocabulary, fluency, writing, and independent reading instruction. All instructional approaches and learning tasks in TextConnections are based on seven key principles:
Scaffolded instruction
Metacognitive strategies
Memory connections
Motivation and engagement
Guided inquiry
Cooperative learning
Individualized learning
Engages the Learner
Engaging, interactive instruction is vital to bringing success and reading back into the lives of adolescent learners. The TextConnections Student Guides provide 40-60 short selections with space for interactive notes. Genres include fiction, high-interest articles, and informational text. Literature formats include magazines, expository chapter books, graphic novels, and award-winning novels for young adults. Graphic organizers, comprehension checks, self-assessments, and a vocabulary journal are part of every unit.
Supports the Teacher
Teacher materials allow educators to have all the background information, lesson pedagogy, and implementation recommendations they need for instruction. The Teacher's Guide provides complete support for everything teachers need:
At-a-glance, big-picture planning
Clear, step-by-step lessons
Differentiation for English language learners and students with special needs
Built-in assessment guides and resources
Reproducibles
The Principles & Practices resource includes an overview of units and instruction, suggestions for classroom management and implementation in multiple settings, and more.Assessment
Student performance is assessed formally through reading passages followed by multiple-choice, short-answer, and open-response test items. Other assessments include oral reading fluency, progress-monitoring graphs, quick writes and writing projects, and vocabulary journals.
Program Components
Teacher's Guide for Units 1-5
Talking About Text Poster
Vocabulary Poster
Lesson Resource CD
Principles & Practices Handbook
When Kids Can't Read by Kylene Beers
Student Literature Set
Two Student Guides: Units 1-2 and 3-4-5
Student Vocabulary Journal
Teacher's Kit Includes: Teacher's Guide, Principles & Practices Handbook, Talking About Text poster, Vocabulary poster, When Kids Can't Read by Kylene Beers, Lesson Resource CD, and 1 Student Literature Set.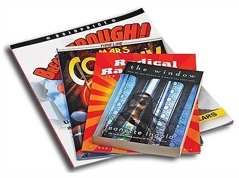 TextConnections Middle School Student Literature Set
Each student uses an individual Student Literature Set while reading and writing in his or her Student Guides and Student Vocabulary Journal.
TextConnections Student Literature Set Includes: four pieces of literature:
Breakthrough!
Mars Colony
Radical Radiation
The Window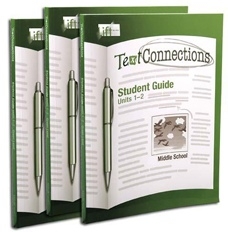 TextConnections Middle School Student Materials Set
The TextConnections Student Materials Set Includes one each: Student Guide for Units 1 and 2; Student Guide for Units 3, 4, and 5; and Student Vocabulary Journal.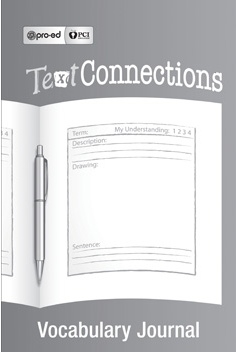 TextConnections Student Vocabulary Journal

This Student Vocabulary Journal is also included in the TextConnections Middle School Student Materials Set and in the TextConnections High School Student Materials Set.
150 pages • 6 x 9 • softcover
---
Reviews
---
---