Got It! Student Response System
Got It! Student Response System
The Got It! Interactive Wireless Student Response System is the most comprehensive educational technology for the classroom environment. Got It! brings the interactive functionality of the computer to the classroom environment. A single computer is all that is required to run the program per room.
As computers become increasingly ubiquitous in the classroom, education continues to evolve from traditional lecture methods toward higher levels of interactivity between students and teachers. Got It! is designed to take advantage of the teacher's existing lesson plans and maximize interactive learning opportunities for students, creating a more stimulating environment that actually encourages students to participate. Easy-to use, convenient, and cost-effective, Got It! makes learning fun!
The computer presents a series of interactive lessons. Each student is provided with a simple infrared remote control. Pressing a key on the remote enables the computer to identify which student pressed the key, and which key was pressed. The result is a fully interactive learning environment that encourages individual student participation, while making it easy for the teacher to instantly evaluate each student's unique progress.
Got It! grades objective tests, tallies class averages and saves all records, which facilitates the teacher's in-class learning performance and provides progress reports to parents. Because only one computer is needed, Got It! dramatically reduces hardware costs, as well as the need for costly network administration.
Got It! is compatible with Windows only.
SRP: $1390.50 (24 Pack)
SRP: $1991 (40 Pack)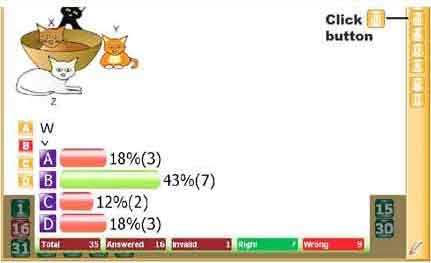 Activities
Got It! offers a wide range of interactive instructional activities, through six main interactive modes. Each time an activity is run, the system will enter the response records into its database automatically.
Ordinary Quiz: Got It! presents prepared teaching materials in various question formats. Student responses and class statistics can be compiled for assessment purposes.
Competition Quiz: Got It! presents test questions in a competition style presentation, with students or groups of students attempting to be the first to answer each question.
Buzz-in Quiz: Similar to the competition quiz, however, only the first student to buzz in will be called upon to answer the question.
Knock Out Game: Students who answer incorrectly are disqualified from answering further questions, ultimately resulting in a single "winner."
Prompt QA: This is a pure vote-tallying mode, with the instructor dictating the question for immediate response.
Pick Out: This is used to pick out a student at random to answer a question. It is useful for individual or group surveying.
There are also Presentation, Grading, Polling, and Survey modes and an additional "On The Fly" activity mode which enables the instructor to insert questions spontaneously within a lesson, making it easy to adapt to current learning situations
Generating Reports
Got It! provides six different types of reports to analyze students' responses, progress, and to generate a range of statistics and activity reports with the data being interchangeable with the Excel™ CSV format.
Summary Report displays the overall answering times and detailed response data for each student.
Grade Report is a report card that provides parents with information regarding students' learning results.
Activity Detail Report will display the number of correct responses, the rate of correct responses, and the contents of each question.
Historical Report is useful for tracking learning curves of individuals and classes.
Comparison Report displays a comparison of students' grades for a particular subject or lesson.
Semester Report compiles and prints mid- or final term results for all activities
Class Score Tracking List Chart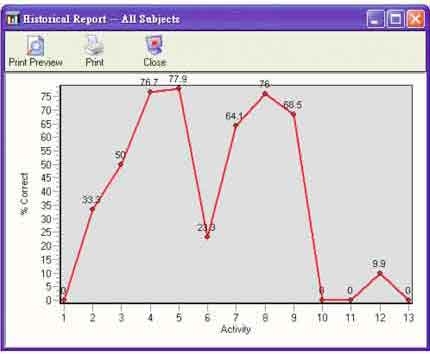 Display individual student's learning progress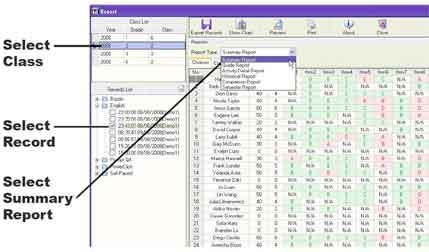 Activity Detail Report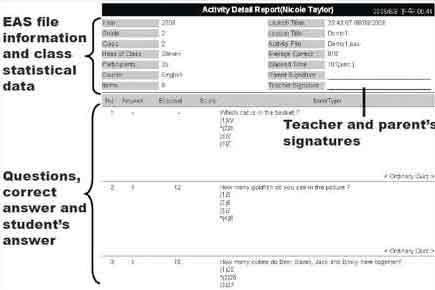 Printout of each student's responses: The printout of the Activity Detail Report displays each question, response options, the correct response and the student's actual response. Fields are provided for teacher and parent's signatures.
NOTE: The Activity Detail report can also be exported as a CSV file. The procedure is the same as the procedure for exporting the Summary Report.
System Requirements
• PC (desktop or laptop)
• Pentium 4 class CPU PC (or above)
• Microsoft Windows XP SP2 (or above)
• 512 Mb RAM
• USB port
• 10 GB hard drive
• Microsoft Office 2003 SP1 or above
• Internet Explorer 6 or above
• SVGA display
• Large Screen Display/High-resolution projector
---
Reviews
---
---