GoTalk Pocket
GoTalk Pocket
Small, discreet, 30 messages!
The GoTalk Pocket is lightweight, contoured, and so small it fits nicely in your hand, pocket, or purse. Attach the lanyard and use as a wearable communication device.

Six message keys with five levels give the user plenty to talk about. Overlays slide in easily and are stored in a removable compartment on the back. Like all GoTalks, the Pocket is rugged, attractive, easy to use, and has great sound quality.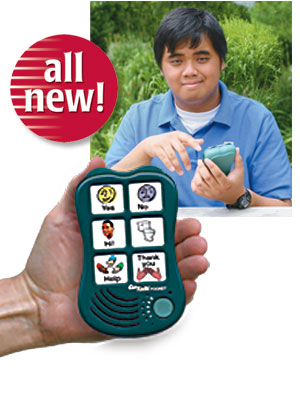 Includes 3 AA batteries.
Size: 3.5 x 5x5 x 1
Weight: 7 oz.
Recording time: 5 minutes
GoTalk Overlay Software v3.0
Windows only, XP or higher.
---
Reviews
---
---